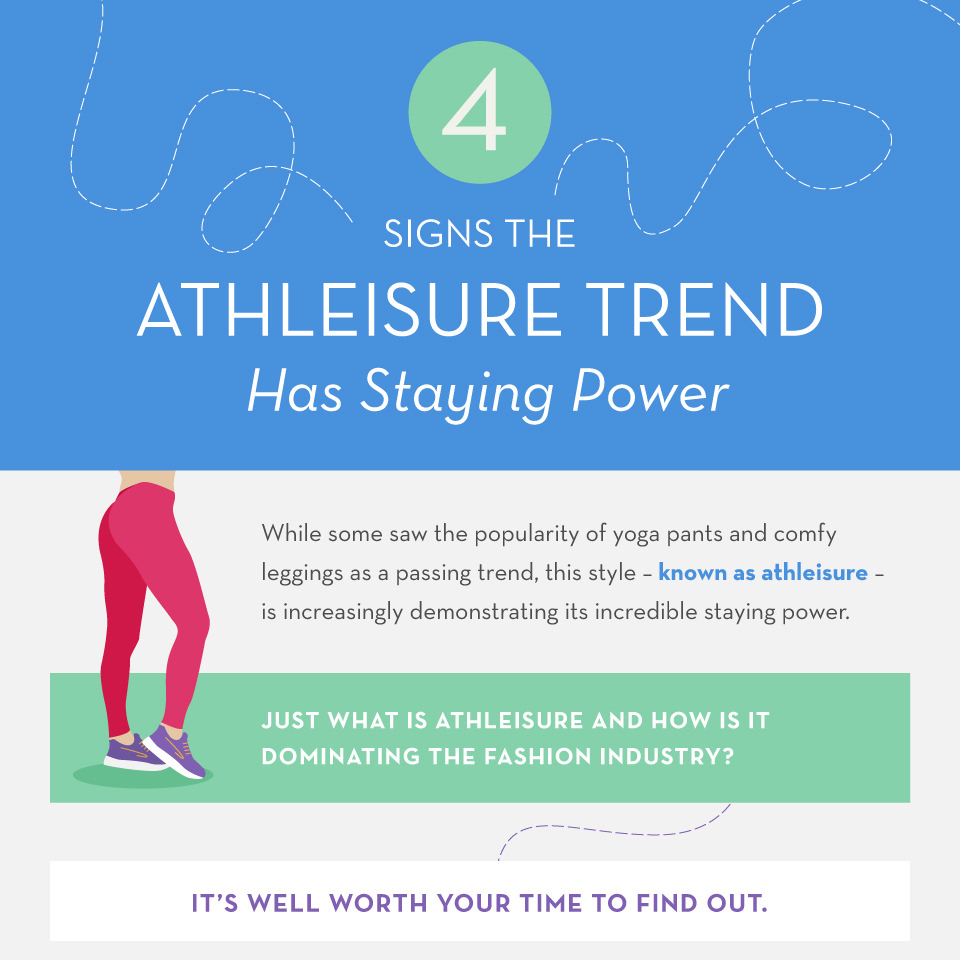 4 Signs the Athleisure Trend Has Staying Power
Athletic wear has officially made its way out of the yoga studios and onto the streets. From the local coffee shop to the grocery store, and from the school pickup line to happy hour, it's becoming more and more common to spot people donning their sneakers and other workout gear outside of the gym.
This trend - the phenomenon of people wearing gear like yoga pants, Adidas slides and Nikes, regardless of whether or not they're exercising - is referred to as "athleisure," and it's not going away anytime soon.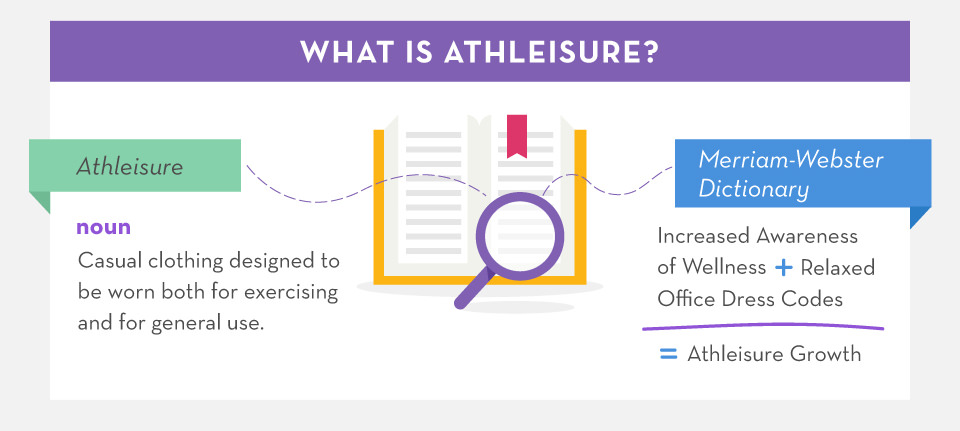 What is athleisure, and where did it come from?
Merriam-Webster defines athleisure attire as "casual clothing designed to be worn both for exercising and for general use."
Whether you chalk it up to a growing desire for more comfortable wardrobe options, or to an increased demand for new health and wellness products, it's not hard to see how the athleisure trend came to be.
Another point to consider is the go-go-go mentality of today's society. With traditional office and household roles becoming increasingly blurred, more people are striving to balance full-time jobs, housework, and childcare with personal needs like health and fitness.
It didn't take long for people to realize that their Nike kicks were comfy enough to wear to the gym and for running errands, but fashionable enough to wear to dinner or to meet relaxed office dress codes.
Thus, the athleisure trend was born.
Some fashion insiders have claimed that the popularity of athleisure attire was a passing fad - one that would eventually grow old and fade away. But designers are taking new steps to blend fashion with function, and consumers are becoming more attached to the trend than ever before.
Not only has athleisure completely dominated the fashion industry - growing well beyond its initial predicted lifespan and reach - it has demonstrated its incredible staying power in a number of ways. Read on to discover just why athleisure is here to stay for good!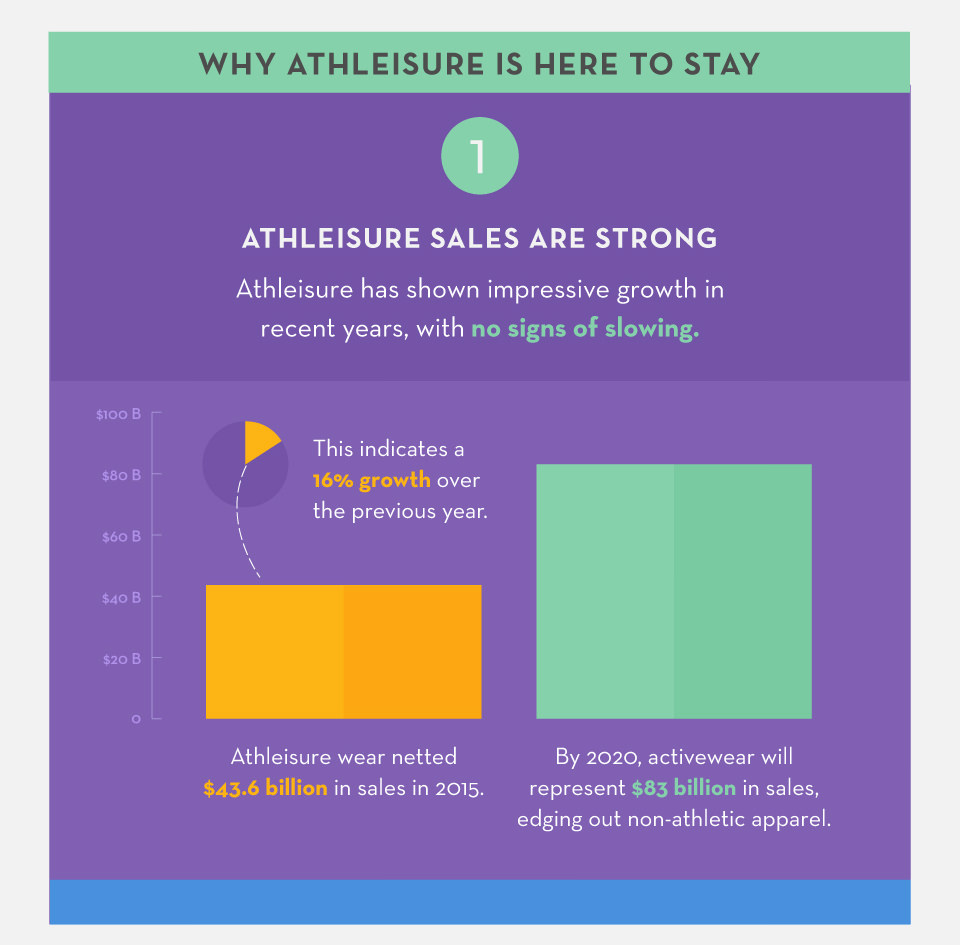 1. Athleisure sales are strong.
Remember the workout attire of decades past, which seemed to flip-flop between overly-revealing neon tights and frumpy grey sweatpants, with no middle ground? Modern athleisure attire has filled a gap in the market for the first time ever, by creating sportswear that's both stylish and functional.
Filling this niche market need has allowed athleisure sales to skyrocket over the years, and it doesn't look like they'll be slowing down anytime soon. In 2015, athleisure wear netted $43.6 billion in sales. Financial services corporation Morgan Stanley predicts that by 2020, activewear will represent $83 billion in sales, edging out non-athletic apparel. This indicates a 16% growth over the previous year.
New players are joining the game every day, with brands and fashion designers launching new lines, recruiting celebrity ambassadors, and positioning themselves as viable options in the multibillion-dollar athleisure market.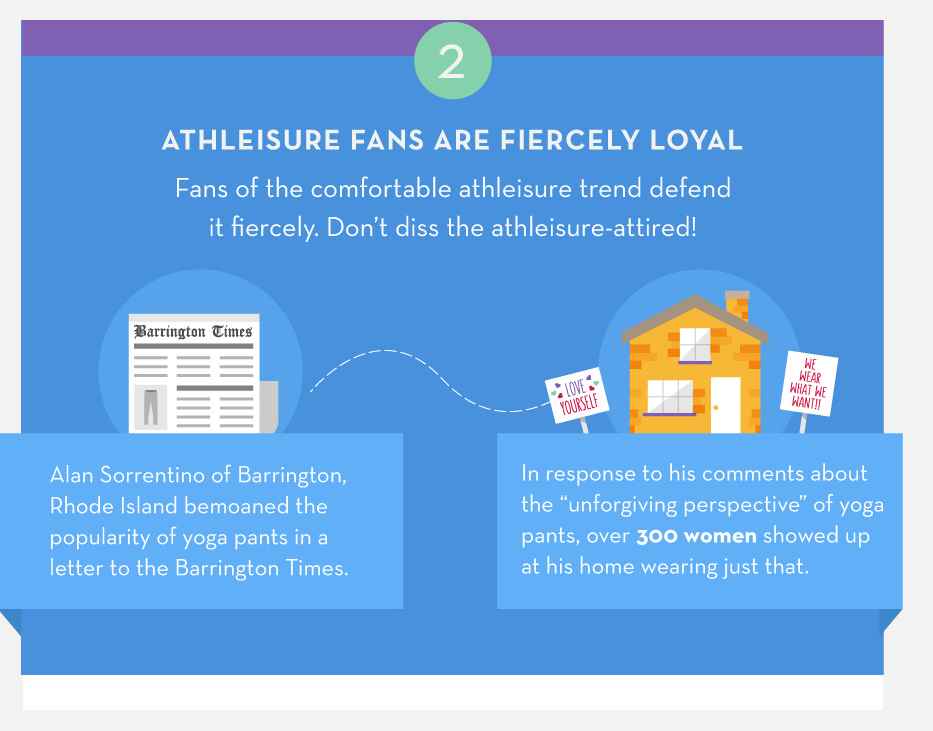 2. Athleisure fans are fiercely loyal.
Fans of the comfortable athleisure trend defend it fiercely. Don't diss the athleisure-attired, or you're sure to experience some serious backlash!
Consider the story of Alan Sorrentino, the 64 year old man from Barrington, Rhode Island who bemoaned the popularity of yoga pants in a letter to his local newspaper. In his letter, Sorrentino called yoga pants the "absolute worst thing" to happen to women's fashion since the rise of the mini skirt, and declared that women over the age of 20 should opt for more sensible options like tailored slacks.
In response, more than 300 women organized a "Peaceful Yoga Pants Parade" and marched through Sorrentino's neighborhood wearing their most colorful and stretchy leggings and athletic pants, paired with comfy footwear like Adidas slides. Many of the women carried signs with phrases like "yoga pants every day" and "we wear what we want."
But where does this loyalty to yoga pants, sneakers, and other athleisure attire come from?
One possible answer is the modern (mostly female-led) "self-love" movement; women are tired of being told what to wear, and of feeling like they need to adhere to certain styles of clothing based on age or body type. The athleisure trend doesn't discriminate - it's a comfortable and easily attainable fashion option for kids, teens, young professionals, moms, and even senior citizens.
It's also worth noting that athleisure is more than just a fashion trend - it's representative of an entire lifestyle that Millennials and Gen X-ers crave. Consider athletic brand Lululemon, whose manifesto sports tidbits like "friends are more important than money," "do one thing a day that scares you," and "dance, sing, floss, and travel."
These motivational phrases and ideas speak loudly to a generation who values concepts like individuality, freedom, and a sense of connectedness to their peers. Many athleisure brands have smartly positioned themselves to appeal to teens, 20- and 30-somethings who hold more innovative and optimistic viewpoints, like the idea that an article of clothing can be both fashionable and comfortable.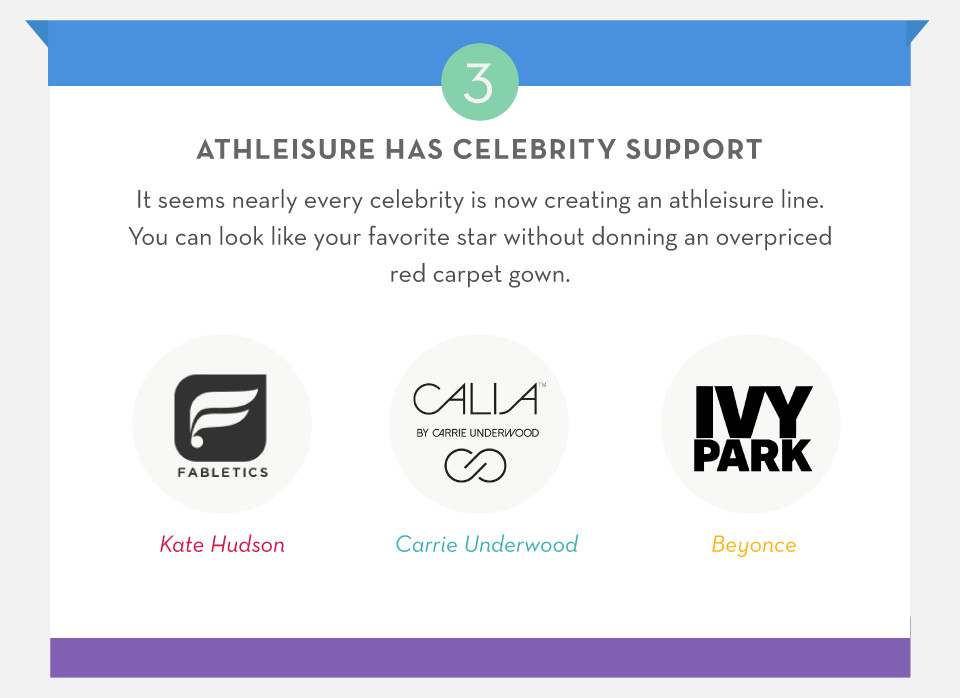 3. Athleisure has celebrity support.*
Gone are the days when A-list celebrities only wore couture gowns straight off the runway. Today, it's common to see paparazzi photos of models sporting workout gear on their way to spin classes, or singers displaying Adidas or Nike shoes on a busy city street.
Thanks to this celebrity support, it's easier than ever for fans to recreate the look of their favorite stars without donning an overpriced red carpet gown. Throw on a pair of black yoga pants, a cropped t-shirt, a pair of sneakers, and some cool shades (bonus points if you can add an iced coffee or cold-pressed juice) and you can match your favorite superstar.
Not to mention the countless celebrities who have created their own athleisure lines over the years!
Carrie Underwood - who launched her fitness line CALIA in March 2015 - explained, "The inspiration for this line came from my desire to have clothes that seamlessly take me from workouts, to errands, to rehearsals and beyond."
Other celebrities with their own athleisure lines include Kate Hudson, who released Fabletics in 2013, and Beyonce, who launched Ivy Park in 2016. Heidi Klum, Rita Ora, Jessica Simpson, and Julianne Hough are other A-listers who have collaborated with athletic brands to create their athleisure lines.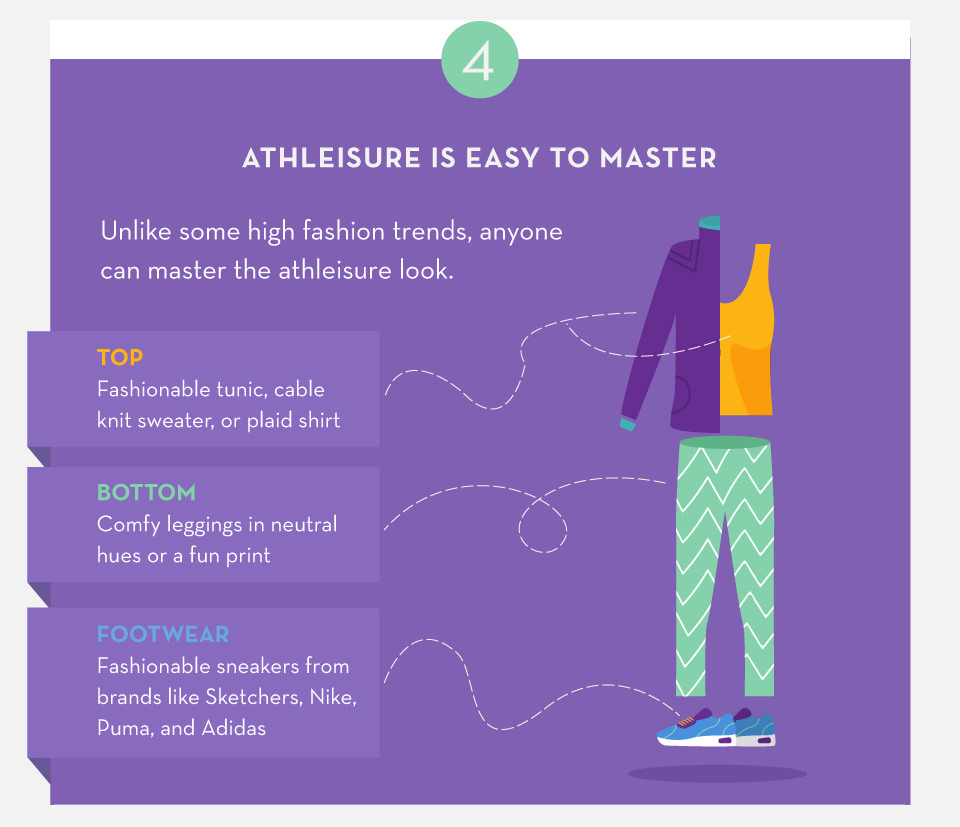 4. Athleisure is easy to master.
Unlike some of the more "out there" high fashion and runway trends, it's possible for anyone to master the athleisure look.
To put together a magazine-worthy athleisure outfit, start with a pair of comfy leggings or yoga pants. Solid black is the most versatile, but you can also opt for colored or patterned pants for a fun pop of color. Choose a top that dresses up the leggings just a bit, but one that's still casual. A tunic, cable knit sweater, loose plaid shirt, or cropped t-shirt paired with a long jacket is always a safe bet.
Step into your favorite pair of fashionable sneakers from brands like Sketchers, Fila, Nike, Puma, or Adidas, and you're good to go! Whether you opt for kicks that are sleek and minimalist or bold and bright, you can't go wrong. You can also tie your outfit together with some simple jewelry and a messy bun or ponytail, or by throwing on a baseball cap or beanie.
According to Elle fashion magazine, a preference for "athletic-inspired pieces" is one of the top 5 fashion trends that will be "in" for 2017. Also on the list? Sneakers! Gennie Yi, a buyer at Intermix, said, "Because of their versatility, you can never have too many. Glitter, leopard, and satin updates to sneakers effortlessly dress up an outfit and give you a reason to buy multiple pairs."

From the gym to the streets, athleisure is here to stay.
Not only has athleisure secured a spot in the dictionary and in the global apparel marketplace, it has secured a place in consumers? hearts. It's an easy style that facilitates both comfort and fitness - two ideologies that are of growing importance to modern consumers.
Whatever your personal take on i trend is, there's no denying that those who are loyal to athleisure wear are unlikely to ease their grip on the style anytime soon.
Not ready to take the dive into the full athleisure look? No problem! Start by pairing Puma sneakers with jeans for casual Friday, or incorporate an athletic-inspired pump by Anne Klein Sport into your dress attire.
* Listed celebrity brands are for reference only and are not affiliated with Shoe Carnival.
---
SOURCES